National Protective Services' CEO Rachaell Saunders has been featured in a recent issue of Security Insider magazine, detailing her journey from security officer to nearly 30 years as the head of a thriving security company.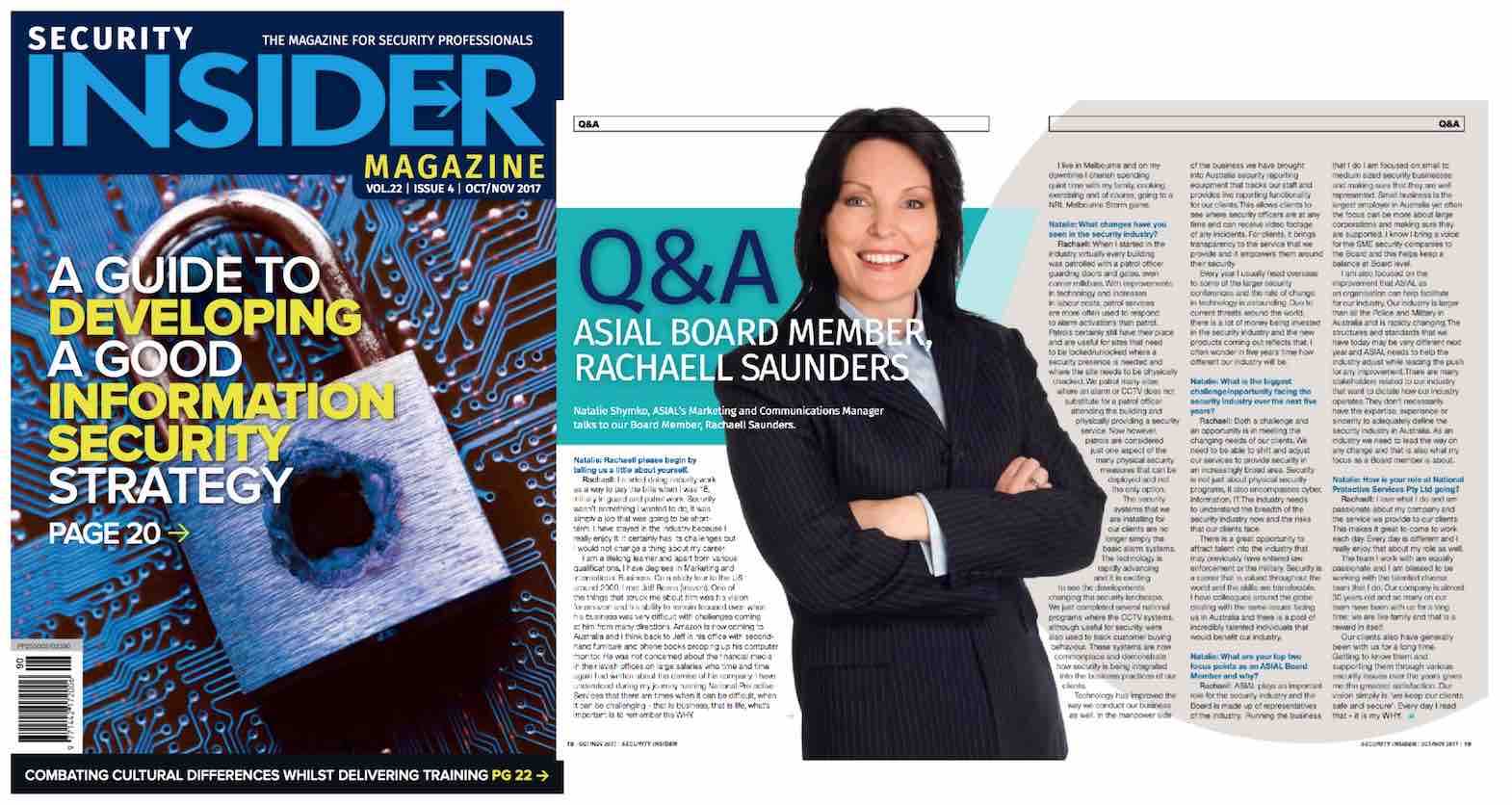 In the article, Ms Saunders explains how she first started work as a security officer to "pay the bills" but stayed in the industry because she liked it and could see the potential for a variety of work it offered.
Describing herself as a "lifelong learner", Ms Saunders combined on-the-ground security experience with various qualifications and University degrees (including in Marketing and International Business) throughout her career to gain the knowledge needed to run a profitable business.
This combination also helped her to be appointed a Board Director of the peak security body, the Australian Security Industry Association Limited (ASIAL) for the past two years.
This hard work, foresight and commitment have resulted in a company about to celebrate its 30-year anniversary, as well as a list of long-standing clients and dedicated team members. "The team I work with are equally passionate and I am blessed to be working with the talented diverse team that I do," she says. "So many on our team have been with us for a long time that we've become like family and that's a reward in itself."
Ms Saunders has drawn inspiration from other company leaders who have persevered through tough times to achieve success. This includes Amazon founder Jeff Bezos who she met back in 2000 on a study tour. "One of the things that struck me about Jeff was his vision for Amazon and his ability to remain focused even when his business was very difficult, with challenges coming at him from many directions," she says.
"With Amazon now in Australia, I think back to Jeff in his office with second-hand furniture and phone books propping up his computer monitor. He wasn't concerned about the financial media in their lavish offices on large salaries who time and time again had written about the demise of his company."
Ms Saunders says having a "why?" — the reason that makes someone put their best foot forward every day — will help businesses owners to push through the hard times and stay motivated. "Our vision is simply 'we keep our clients safe and secure' and I read that know it to be true."
Download the PDF to read the full article and how Ms Saunders has seen security provision change over the years.
Take a look at the online version of the magazine and flip to page 18.