We're about to approach the winter solstice, which marks the shortest day of the year in terms of daylight. Whether you are out and about this winter, or staying close to home or work, here's some tips for protecting yourself, your home and your business during the darker months.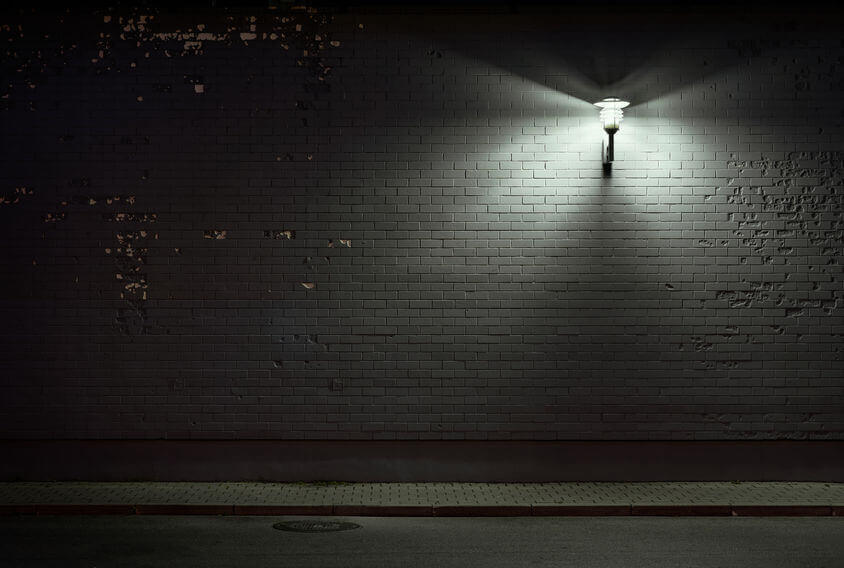 Find some light
At home or at work
Good lighting, especially around entry and exit points to buildings or homes, will provide less cover – and less incentive – for thieves or other criminal activity.
Sensor lights at home are also a good deterrent. If you're going away or your business is closed for a time, lights on automatic timers can make it look like someone is still around.
Keep a porch light on so you can clearly see visitors at your door. And make sure you have a lockable screen door, so that if you open your front door to a stranger, you at least have the locked screen door between you.
In car parks
Try and park near a lighted area. If on the street, park on a main road that is well lit rather than a dark side street.
Even in lighted car parks, for example at a shopping centre, try and park as close to the entry to the shops as possible to avoid longer walks alone to your car, especially at night.
Reverse park if you can so you can get out quickly and easily if you need to. Never leave property, especially valuables, visible in your car.
On the street
Whether you are going for a walk, a run or going between your office and the train station, try and stick to the main roads, which are more likely to be well lit and have more people and traffic on them.
Be aware of your surrounds
Stay alert
Don't wear earphones while walking or running. You can't be properly aware of traffic or people walking behind you if you can't hear.
Be seen
While you might be able to see traffic, make sure traffic can see you. When going for a run, walk or ride, wear bright or reflective clothing, or make sure your bike light is on.
Remember safety in numbers
If you're out alone in the dark, walk close to another group of people (if they seem appropriate) if you can. Stick to the footpath and streets where there is more pedestrian and road traffic.
Trust your instincts
If something doesn't feel right, it probably isn't. If you see something or someone that makes you feel uncomfortable, try and find somewhere safe to wait, perhaps in a restaurant or business or hotel lobby, a shop, or convenience store. Wait until you feel comfortable before heading out again or get help of you need.
Get organised
Keep your keys handy
If driving, have your car keys easy to reach in a pocket or zipper of your bag to save you from fumbling around in front of your car in the dark.
Get your cash ready
If you carry cash, be prepared and get some out before you leave the house. If you need to get cash while out, try and use an ATM inside a convenience store rather than using one on the street. It may cost you a couple of dollars for the transaction fee, but it might save you in the long run.
Organise your transport
Plan journeys in advance. Book taxis and get someone to wait with you and see you into the taxi. If you're not familiar with an area, find out closest public transport link or parking options before you leave so you're not stuck.
Keep in touch
If you live with someone and are heading home late, send them a text when you are on your way home so they know when to expect you. Or if you live alone, and are leaving a party late, tell a friend at the party you'll text when you're home.
Stay on your feet, and stay healthy
Get your hands out
It's temping to keep your hands in warm pockets in the cold, but on slippery surfaces you can loose your balance more easily when your hands are in your pockets.
Wear shoes with a good grip (or keep a pair handy if going to and from work or social events) that will help you stay on your feet.
Watch your step
Be careful getting out of cars and on to slippery, frosty or sleet-covered surfaces. Around your home, take extra care around tiled patio areas, steps or decks that become slippery when wet.
Slow down
Taking smaller steps at a slower pace will help you avoid slips, trips and falls.
If you're driving or on a bike, remember it takes longer to stop on wet roads and sudden breaking can cause skidding.
Keep hydrated
De-hydration in winter is called a 'hidden hazard' because we don't always feel thirsty in the colder months, but we still need to keep our fluids up. This is especially the case when working outside or being active outdoor.
Eat well
Eating plenty of healthy food and vegetables will help boost your immune system and keep some of those coughs and colds at bay.
So, whether you like the colder months or not, make sure you keep these tips in mind when you are at home or out and about to help you finish off winter safely and healthily.